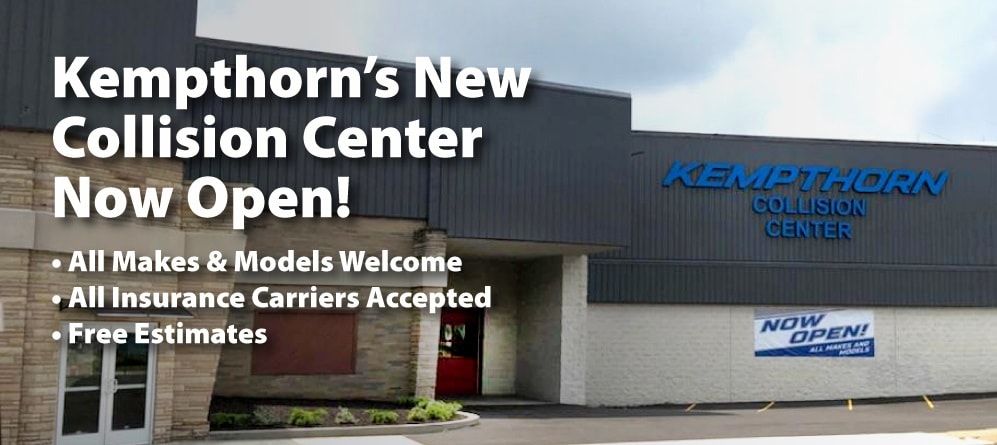 Kempthorn Motors Collision/Body Shop Center


We understand how tough it can be to choose an auto body repair shop when your vehicle has been damaged, especially if you don't already have a relationship with a facility you trust. That's why we're proud to offer our expert services to owners from North Canton, Akron, and beyond. Our expert team of trained-professionals is ready to help get your vehicle back on the road as soon as possible, with all repairs performed by certified technicians.
We're able to offer our customers a full-service body shop and collision repair center. We're able to fully restore all makes and models, so you can trust our team to take care of your pride and joy and return it to the pristine condition you hold dear. We're happy to give no-cost, no obligation estimates, and are happy to accept all insurance.
Speaking of insurance, we know how stressful it can be to try juggling their demands, sharing that information with the body shop, and still go about your daily business. That's why our team works directly with your insurance carrier in order to get your vehicle repaired and back to you as soon as possible.
Then there are the magicians in our paint shop. These artists are capable of matching all colors and trims, resulting in a factory-like finish that can't be distinguished from the original paint. Their goal, as is the case with our entire team, is for your vehicle to look as if it had never been in an accident to begin with.
Whether you need a cracked windshield repaired, or have more significant damage to take care of, our expert team will deliver the efficient, professional service that you expect. We take great pride in delivering excellent customer service and repairs, and we respect your time's value.
Contact us to arrange for a free estimate, or if you have any questions. We look forward to helping you soon.